"Globalization, digitalization and Media"
"Today and tomorrow: current developments and trends in the media sector in Africa"
"Globalization, digitalization and Media"
Presentation at a professional workshop on "

The world of work post COVID-19: The case of telework

", La Vaudoise, Lausanne – May 28, 2020
"Globalization, new ICT and Media"
Guest lecture within a Symposium on Artificial Intelligence, EDHEC Business School, Lille – September 16, 2019
"The impact of artificial intelligence on the nature of work: a critical perspective"
9th Conference of the Research & Strategic Studies Center of the Lebanese Armed Forces on Artificial Intelligence in Security and Defence, Beirut – March 26-29, 2019
"Digital transformation in organizations : The impact of new technologies on working processes and employment relations"
"Globalization, new ICT and Media"
Semaine des Droits Humains, Université de Genève – 14 novembre 2018
"Media management and media policies as a potential deterrent for hate speech  online?"
Swatch Group, cours / journée de formation – 7 septembre 2018
             "Industrie 4.0 et Organisations Intelligentes: Quels Défis et Rôle à jouer pour la                  Gestion des Ressources Humaines?"
Fondation Suisse pour la Recherche en Microtechnique (FSRM), cours – 1 juin 2018
             "Organisation et Ressources Humaines à l'Ère Digitale"
"Globalization, ICT and Media" (slides)
Presentation at a professional workshop on Power dynamics in business, Vicario Consulting SA, Lausanne – September 21, 2017
"Leadership and Power: New paradigms, new concepts" (slides)
"Globalization, Digitalization and the Media" (slides)
International Workshop on Business Journalism, Tsinghua University, Beijing – May 27, 2016
"Managing Media Distribution Channels: The Transmission of Economic Information"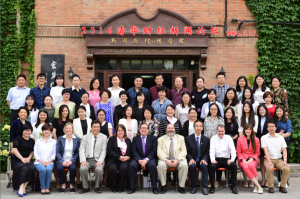 Media Management Course, Tsinghua University, Beijing – May 24, 2016
"Managerial Challenges of Business Model Innovation"
"Kritikunfähige Medien? Praxisfremde Wissenschaft? Journalismus und Medienforschung im Dialog"
– Conference program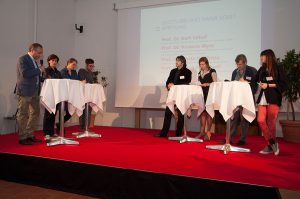 Table ronde organisé par le journal La Cité, Galérie C, Neuchâtel – 7 septembre 2012
"Quel avenir pour la presse aujourd'hui ? "
Mindtrek 2010 Conference, Tampere, Finland – 6-8 October, 2010
"Innovation enhancing human resource management within media firms", Key Note Speaker, http://www.mindtrek.org/2010/speakers/cinzia-dal-zotto
Séminaire « La fin du consommateur passif ? La place du consommateur dans la cocréation de la valeur économique ». Institut de Sociologie, Faculté des Lettres et Sciences Humaines, Université de Neuchâtel, 1 Octobre 2010
"La professionnalisation de la gestion des médias en tant que Business Angel des journaux"
MMTC Conference on The Business of Emerging Media: Research and Practices, at its branch at Tsinghua University in Beijing, China – April 21-23, 2010
"New Media Management"
Federal Office of Communication, Biel, Switzerland – November 18, 2009
"Media Economics and Management: An Introduction"
IFRA Sweden, Annual Meeting, Stockholm – January 30-31, 2007
"Business Models for Newspaper Publishers: Trends and Projections"
IFRA European Committee Meeting, Paris – October 26-27, 2006
"Is there Life beyond the Print Newspaper? Preparing for the Multi-product Future of Newspapers", with Robert Picard.
IFRA International Conference on Business Models for Newspaper Publishers, Frankfurt am Main –October 23-24, 2006
"Status Quo and Trends in Newspaper Publishing Houses Worldwide", with Robert Picard.
Interdisciplinary Workshop on innovation and R&D in media firms – Media Management and Transformation Centre, Jönköping International Business School, and Wissenschaftszentrum für Internationalen Journalismus, Universität Dortmund – January 23-25, 2004
"Application of innovation management theories and strategies to media firms"
BRIE/OECD/Caisse de Depots Conference on Venture Financing and Regionalized Development, Paris – June 19, 2002
"History and Location in the Venture Capital Industry", with Martin Kenney
"Venture Capital and Local Economic Development", with Stephen S. Cohen
EXIST-Partner-Workshop zum Thema "IT & Entrepreneurship – Trends of the Future" mit Accenture, Sofia Antipolis – Frankreich, March 2001
"Software Development: Closed versus Open Source Software", with Karsten Hoppe, Christian Lendner, Anna Möhle, Johannes Nührenberger.